The Holy Land and the Golden Section - Part 2
Here are some examples for the use of the Golden Ratio in Architecture.
The Great Pyramid in Egypt and the Parthenon in Athens are examples from the ancient world.
<![if !vml]>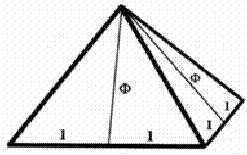 <![endif]>
There is a Golden Ratio between the mast and the side lenghs 
<![if !vml]>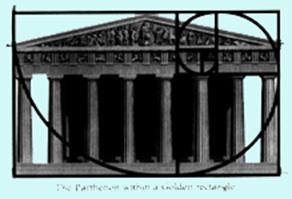 <![endif]>
The front is a Golden Rectangle, one of the best manifestations of the Golden Ratio
The holiest shrine of the Roman Empire, The Pantheon, was designed according to the Golden  Section.
Le-Corbuzier, The famous modern architect,  planned the U.N. building in New-york according to it.
<![if !vml]>

<![endif]>
Here are examples of the Golden Section in Nature.
<![if !vml]>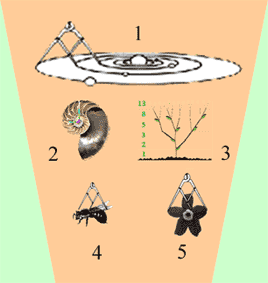 <![endif]>
1. The distances between the closest planets. 2. The conch shape. 3. The distribution of leafs in a plant.
4. The bee's body size. 5. The flower's size.
The caliper is a special instrument that shows the ratio of 1 to 1.618.
More about Golden Section in Nature
<![if !vml]>

<![endif]>
The human body organs are proportioned according to the Golden Section.  This was one of the foundations of Classic Hellenistic sculpture.
<![if !vml]>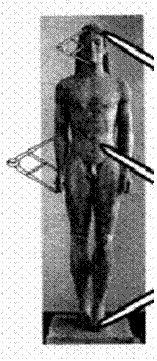 <![endif]>
Classic Greek Sculpture
<![if !vml]>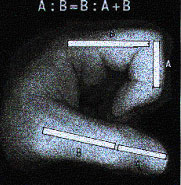 <![endif]>
The fingers lenghs has Golden Ratio
In the Renaissance, Leonardo De Vinci and Michelangelo used it in their famous works of art.
Le-Corbusier designed the 'Modular', a drawing of a man as a base for systematic Architectonic planning.
A link to a leading site on the Golden Section
<![if !vml]>

<![endif]>
  Next Page       previous page       Main Page